BRADFORD LANDMARK SOCIETY
Preserving the History of the Tuna Valley and Bradford, McKean County, Pennsylvania
United States of America
---
---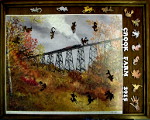 KINZUA BRIDGE PUZZLE RAFFLE
Wooden Kinzua Viaduct jigsaw puzzle, hand-crafted by local artisan, Craig Hart, from a print of an original painting by Stan Carlson, Director of the Salamanca Rail Museum.


Congratulations to Madeline Miles, winner of the Kinzua Bridge Puzzle Raffle! We'd like to thank everyone who purchased tickets. Your support is much appreciated.
---
WALK AROUND THE BLOCK QUILT
Congratulations to Joyce Schaming, winner of the Walk Around the Block Quilt!
---
CROOK FARM COUNTRY FAIR, OLD TIME MUSIC FESTIVAL, CRAFTS & VENDOR SHOW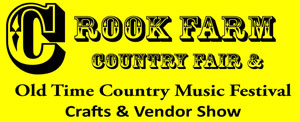 Saturday, August 29th & Sunday, August 30th
The 72 Vendors and their locations have been posted
Music starts Friday, August 28th
---
---
Welcome to the Bradford Landmark Society
Our door is always open. Won't you come in, relax, and spend some time with us? We love company.
Your visit can begin with a Time Capsule - there are over 30 covering a wide range of subjects. Military aficianados will want to check out the Civil War Database. Just who came to Bradford first? Our First Families of the Tuna Valley will have the answers. The 1935-1995 Obituary Index serves as an aid to those of you tracing the branches of your family tree.
PA Birth and Death Records Indices
Births records that are 105 years old and older (currently only the 1906 births)
Death records 50 years and older - covering 1906 through 1961
History of the 1864 Arch Culvert - Big Shanty, Lafayette Township, McKean County, PA
Histories of the Crook Farm and The Herbig Bakery answer many questions we've been asked about who we are and what we do. While you're here, please check out The Inkwell-Society Newsletter. This quarterly publication covers a wide variety of subjects and is sure to stir up some old memories.
In addition to the First Families of the Tuna Valley and the Obituary Index, the Research & Reference Information section lists the collections, volumes and related sites we have available to assist you in your historical and genealogical searches.
Historical Photos & Postcards represents only a portion of our photo collection.
Enjoy dancing like it used to be or just kicking back and listening to some old time music? You've come to the right place.
We sincerely hope you enjoy your visit. Please stay as long as you want and come back often.
---
Socially Speaking
Follow us on Twitter
Meet us at Facebook


---
Your monetary gift helps us continue offering these services. All donations are sincerely appreciated and gratefully accepted.
Thank you for your support.
---
Bradford Landmark Society Headquarters, 45 East Corydon St., Bradford, PA 16701
Telephone: (814) 362-3906
email: info@bradfordlandmark.org
Open: Monday, Wednesday, Friday, 11 am - 2 pm, or by appointment