BRADFORD LANDMARK SOCIETY
Preserving the History of the Tuna Valley and Bradford, McKean County, PA
---
---

CROOK FARM SCHOOL PROGRAM
This year we changed the manner in which we notify schools to sign up for this program. A letter on Bradford Landmark Society letterhead was implemented and letters sent out several weeks ago. In the past schools were contacted by Sue J. That has changed, so we will need you to contact us at 814-362-3906 or info@bradfordlandmark.org with your reservations. The program is open to all area 4th and 5th graders.

Please note: the Crook Farm is part of the Bradford Landmark Society.

The Bradford Landmark Society announces that reservations are now being taken for the Crook Farm School Program, to be held in May and June at the historic Crook Farm on Seaward Avenue, Bradford.
The School Program is a unique educational experience for 4th and 5th grade students from local Pennsylvania and New York schools. Over 25,000 students have participated in the Crook Farm School program since it began 36 years ago. The program is run by local community volunteers, many of them retired teachers, who donate their time each spring to ensure its continued success.
Inside an authentic 1880 schoolhouse students are instructed by teachers dressed in period clothing and participate in spelling bees and math lessons and practice writing skills with pen and ink. The program also includes a trip through the original 1840 era Crook family farmhouse, carpenter shop, weavers shed and candle shop offering hands-on lessons such as laundering clothes in wash tubs, pressing fabric with sad irons heated on a wood-burning stove, dipping candles, working with hand tools and weaving on a loom.
Area schools or home school children that wish to participate in this year's program should contact the Bradford Landmark Society at info@bradfordlandmark.org or 814-362-3906 as soon as possible. There is a cost involved.
---
---

In Loving Memory of Richard L. "Dick" Robertson
May 25, 1926 - March 27, 2015
Dick's expertise on this area's history was unparalleled. We enjoyed his visits to the Society and appreciated his willingness to share what he knew. We will miss you dear friend. Our heartfelt sympathy to his family.
---
---
---

In Loving Memory of Patricia M. Connelly Schessler
91, passed away March 21, 2015
Pat was active in the Bradford Landmark Society for many years. Her knowledge of Bradford history was remarkable as was her writing. It's sad to say goodbye to another friend. Our deepest sympathy goes out to her family and wide circle of friends.
---

In Loving Memory of Anna M. DeLucia
February 3, 1925 - February 6, 2015
Ann was a long-time volunteer for the Bradford Landmark Society. She will be fondly remembered and missed greatly. Our sincere condolences go out to her family and friends.
---
---
LOOKING FOR THE FOLLOWING ITEMS:
Russ Carson would like to purchase a Kendall stock certificate. Do you have one you'd like to sell?
John Schenne is looking for the original doors from the Armory Building on Barbour Street, removed sometime in the early 1960s. He owns the building and would like to measure the doors so he can restore the look. Or, does anyone have a clear shot of the doors. All we have is a blurry photo. The doors appear to have been wooden, with forged hardware.
If you help these gentlemen, please contact us:
at the Bradford Landmark Society
---
---
YEARBOOK FOR SALE
A former Bradfordian is offering for sale a 1973 Barker. The asking price is $40 which includes shipping.
For more information please contact Molly.
---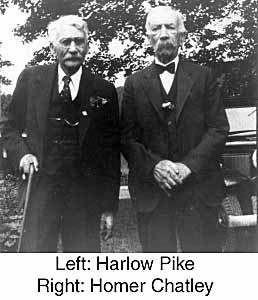 HARLOW PIKE and HOMER CHATLEY
Civil War Veterans
They were the last two GAR members in Bradford.
---
Welcome to the Bradford Landmark Society
Our door is always open. Won't you come in, relax, and spend some time with us? We love company.
Your visit can begin with a Time Capsule - there are over 30 covering a wide range of subjects. Military aficianados will want to check out the Civil War Database. Just who came to Bradford first? Our First Families of the Tuna Valley will have the answers. The 1935-1995 Obituary Index serves as an aid to those of you tracing the branches of your family tree.
PA Birth and Death Records Indices
Births records that are 105 years old and older (currently only the 1906 births)
Death records 50 years and older - covering 1906 through 1961
History of the 1864 Arch Culvert - Big Shanty, Lafayette Township, McKean County, PA
Histories of the Crook Farm and The Herbig Bakery answer many questions we've been asked about who we are and what we do. While you're here, please check out The Inkwell-Society Newsletter. This quarterly publication covers a wide variety of subjects and is sure to stir up some old memories.
In addition to the First Families of the Tuna Valley and the Obituary Index, the Research & Reference Information section lists the collections, volumes and related sites we have available to assist you in your historical and genealogical searches.
Historical Photos & Postcards represents only a portion of our photo collection.
Enjoy dancing like it used to be or just kicking back and listening to some old time music? You've come to the right place.
We sincerely hope you enjoy your visit. Please stay as long as you want and come back often.
---
Socially Speaking
Follow us on Twitter
Meet us at Facebook


---
Your monetary gift helps us continue offering these services. All donations are sincerely appreciated and gratefully accepted.
Thank you for your support.
---
Bradford Landmark Society Headquarters, 45 East Corydon St., Bradford, PA 16701
Telephone: (814) 362-3906
email: info@bradfordlandmark.org
Open: Monday, Wednesday, Friday, 11 am - 2 pm, or by appointment