COMING EVENTS
---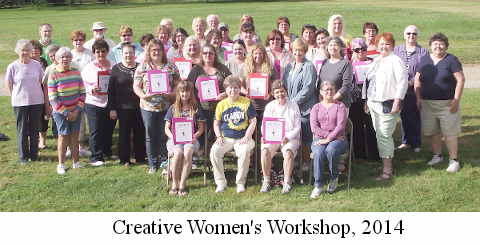 CREATIVE WOMEN'S WORKSHOP 2015
Saturday, August 1, 2015
On Saturday, August 1, 2015, from 9 am until 3 pm we will be offering our 2nd Annual Creative Women's Workshop. Last year's workshop ended with many of the participants making us promise to make this an annual event. We listened, and do we ever have an exciting lineup just for you. We had an overwhelming response and the registration is now closed.
Enter here for the Creative Women's Workshop Page. Pertinent information will be posted on that page if any changes occur.
- - This page revised July 24, 2015, 1:04 p.m.
---
36th ANNUAL CROOK FARM COUNTRY FAIR and OLD TIME COUNTRY MUSIC FESTIVAL

Where: 476 Seaward Avenue, Bradford, PA 16701
Date: Saturday, August 29, 2015 & Sunday, August 30, 2015
Time:10 a.m. - 5 p.m.
---
WEEKLY
Play & Sing Country on Thursday & Friday evenings starting at 7:30 and generally going until 11PM
---

TUESDAY NIGHT ROUND & SQUARE DANCE

This is the first of the Tuesday night dances for the winter season. We're going to try to keep them going through the winter on a monthly basis, weather permitting.

Where: Crook Farm Bank Building, 476 Seaward Ave., Bradford, PA 16701
When: Tuesday, October 14, 2014
Time: Starting at 7pm
Description: Old time Community Dance (Squares, Waltz, 2-Step, Western Swing)

Virginia Reed, calling
Live Music by the Crook Farm All Stars (and friends)

Donations gratefully accepted.