COMING EVENTS
---
---
3rd Annual Creative Women's Workshop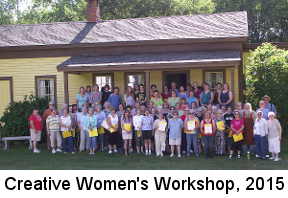 Date: Saturday, July 30th
Where: Historic Crook Farm, 476 Seaward Ave., Bradford, PA
Time: 9 a.m. until 3 p.m.
Price: $40 per person
Includes: Choice of 4 classes (with the exception of knitting which counts as two classes) and Lunch

ATTENTION LADIES:

It's again time for our Creative Women's Workshop. Can you believe this will be our third year? There are 17 classes from which to choose. You must pre-register so the sooner you send in your form, the better chance you have locking down your choices.


BLACKSMITHING is at capacity and registration is now closed.
JUGGLING - We've found another instructor, so the class is now re-opened for registration.
Download the registration form in either Microsoft Word Document format or Adobe PDF Format:
Word Format (24 KB) - Revision 2 dated July 20, 2016
PDF Format (158 KB) - Revision 2 dated July 20, 2016
YOU MAY ALSO REGISTER BY TELEPHONE at (814) 362-3906 on Monday, Wednesday, or Friday, from 11 a.m. until 2 p.m.
---
---
WEEKLY
Play & Sing Country on Thursday & Friday evenings starting at 7:30 and generally going until 11PM
---
---

TUESDAY NIGHT ROUND & SQUARE DANCE

This is the first of the Tuesday night dances for the winter season. We're going to try to keep them going through the winter on a monthly basis, weather permitting.

Where: Crook Farm Bank Building, 476 Seaward Ave., Bradford, PA 16701
When: Tuesday, October 14, 2014
Time: Starting at 7pm
Description: Old time Community Dance (Squares, Waltz, 2-Step, Western Swing)

Virginia Reed, calling
Live Music by the Crook Farm All Stars (and friends)

Donations gratefully accepted.