BRADFORD LANDMARK SOCIETY
Preserving the History of the Tuna Valley and Bradford, McKean County, PA
---
---
IMPORTANT NOTICE REGARDING OBITUARIES
PLEASE READ THE NOTE AT THE TOP OF THE OBITUARY PAGE REGARDING UNAVAILABILITY OF CERTAIN OBITUARIES.
---
---

PLEASE SPEAK UP FOR THE CONVENTIONAL WELL PRODUCERS!
Response date extended by 30 days (now March 14, 2014)


The shallow Oil and Gas Producers have been the lifeblood and backbone of the western Pennsylvania region since the 1870s. They were our great-grandfathers, our great-uncles, their friends, and their neighbors. Today our grandparents, fathers, mothers, husbands, wives, brothers, sisters, aunts, uncles, and children continue this work, but, for how long?

In 2012 when HB 1950 was proceeding through the legislature, Harrisburg stated "Act 13 will affect non-conventional wells – ONLY". But, when HB 1950 passed, Act 13 REPEALED the Oil and Gas Act of 1984. Act 13 was originally intended to govern non-conventional horizontal wells, such as Marcellus & Utica. Horizontal wells typically occupy a 5-acre drill site, whereas, conventional oil wells have a footprint of only several hundred square feet. Conventional wells produce high-quality crude in small amounts - gallons vs. barrels. If the proposed changes to the Oil and Gas Regulations, Chapter 78, Sub Part C pass, it will be devastating to not only the conventional Oil and Gas Producers, but to the local ARG refinery, associated businesses, and to YOU, yes you. Conventional Oil and Gas Producers have been good citizens, live in the communities where their wells are located, are community-minded, always willing to lend a hand. Let's return the favor and write the Environmental Quality Board. Your letter must be in their hands by March 14, 2014. (The DEP extended the public comment period by 30 days.)

Mailing address for the Environmental Quality Board is: PO Box 8477, Harrisburg, PA 17105-8477.

Letters have been composed for operators, industry businesses, industry employees, and concerned citizens. The files are in PDF format:

Letter for Concerned Citizens
Letter for Operators
Letter for Industry Businesses
Letter for Industry Employees

If you are able, please write your own personalized letter, using the above letters as a guide. If you prefer to use the sample letters as-is, that is sincerely appreciated, too. Just remember to write your name, address, and date, and sign it before mailing.

The Pennsylvania Independent Petroleum Producers Association, Inc. (PIPP) covers every aspect of this on their website: http://www.pipponline.com/. Their December 2013 and January 2014 newsletters are posted on this sub-page: http://www.pipponline.com/newsletters/.

The Bradford Landmark Society at 45 East Corydon St. and Cavallaro Paint and Decorating at 12 Kennedy St. have copies of these letters at their stores for your convenience.
Thank you.
---
---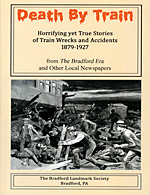 Our newest book, Death By Train, has arrived!
---
---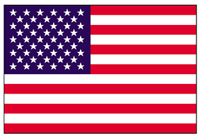 IN HONOR OF OUR VETERANS
We humbly thank you today and every day for the freedoms we enjoy because of your sacrifices.
---
---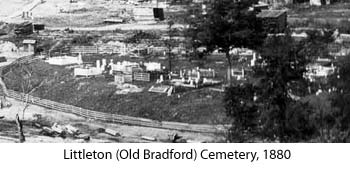 Welcome to the Bradford Landmark Society
Our door is always open. Won't you come in, relax, and spend some time with us? We love company.
Your visit can begin with a Time Capsule - there are over 30 covering a wide range of subjects. Military aficianados will want to check out the Civil War Database. Just who came to Bradford first? Our First Families of the Tuna Valley will have the answers. The 1935-1995 Obituary Index serves as an aid to those of you tracing the branches of your family tree.
PA Birth and Death Records Indices
Births records that are 105 years old and older (currently only the 1906 births)
Death records 50 years and older - covering 1906 through 1961
History of the 1864 Arch Culvert - Big Shanty, Lafayette Township, McKean County, PA
Histories of the Crook Farm and The Herbig Bakery answer many questions we've been asked about who we are and what we do. While you're here, please check out The Inkwell-Society Newsletter. This quarterly publication covers a wide variety of subjects and is sure to stir up some old memories.
In addition to the First Families of the Tuna Valley and the Obituary Index, the Research & Reference Information section lists the collections, volumes and related sites we have available to assist you in your historical and genealogical searches.
Historical Photos & Postcards represents only a portion of our photo collection.
Enjoy dancing like it used to be or just kicking back and listening to some old time music? You've come to the right place.
We sincerely hope you enjoy your visit. Please stay as long as you want and come back often.
---
Socially Speaking
Follow us on Twitter
Meet us at Facebook


---
Your monetary gift helps us continue offering these services. All donations are sincerely appreciated and gratefully accepted.
Thank you for your support.
---
Bradford Landmark Society Headquarters, 45 East Corydon St., Bradford, PA 16701
Telephone: (814) 362-3906
email: info@bradfordlandmark.org
Open: Monday, Wednesday, Friday, 11 am - 2 pm, or by appointment