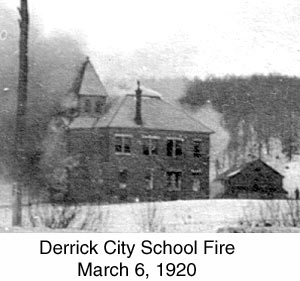 When the Derrick City School Burned in 1920

A school is an important part of a community, and when one is destroyed, the whole town suffers. Derrick City was a community of farmers, oil field workers, and railroad men, and when the school caught fire on Saturday, March 6, 1920, the community lost one of its prominent and most important buildings.
It had been a cold year, and the first week in March proved no exception. The students who attended the two story red brick schoolhouse in Derrick City were glad that the week of studies was over, and they could go home to their chores. Not one of them realized that it would be the last time that they ever attended that schoolhouse.
Sometimes fate plays a lucky hand - so it was fortunate that the school was closed when the fire started. It was believed that the fire started by over pressure of gas, and although the school had been constructed right after the turn of the century of brick, it burned furiously, and was totally consumed in a short period of time.
Ironically, the school might have been saved, but for the actions of the Bradford Fire Chief Charles Henderson, who refused to send aid to Derrick City. Whether the arrival of the Bradford Fire Department with their chemical apparatus would have made a difference in the fire was never determined, but Henderson, when questioned the next day, stated that he had received phone calls for help from some unidentified women, but declined to take Bradford's heavy apparatus to their aid. He added by the time he received the calls, the fire was underway to such a degree that the chemical truck would have been useless, and furthermore, the high winds and lack of a water supply made the fire uncontrollable.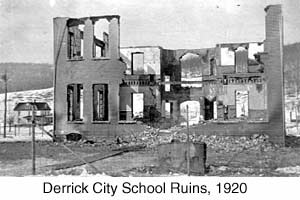 In a short time, the school burned to a shell. By 1922, the school was rebuilt, and this school still stands today, although empty. (Elementary students now attend the consolidated George G. Blaisdell Elementary School on Constitution Avenue.)
Henderson continued as the fire chief of the Bradford Fire Department for another 8 years, dying of a heart attack on January 2, 1928. Appointed as Fire Chief in 1908, his career had been a long and distinguished one. Under his tenure, the central fire station was built, the first motorized fire truck was brought in 1911, and all horse drawn fire apparatus was eliminated by 1919. Following his retirement, he was elected to serve as Treasurer of McKean County, but died shortly before he took office. His decision to let the school burn without rendering assistance was never questioned.