Miss Jennings
Bradford's Incredible Pacing Mare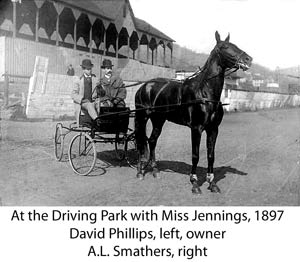 In the late 1890s, the passion for horse racing swept Bradford. And no better horse could be found than this Chestnut filly named Miss Jennings.
She was foaled in 1892, way down in Connersville, Tennessee, and her lineage could be traced back to the famous Hambletonian, the most famous trotter of his time. Her owner, a southern horseman named Squire McCowan, sold both her and her mother in 1894 to Charles H. Jennings, a northern horse breeder who was impressed by both horses' blood lines. He operated a stock farm in Queenstown, Pennsylvania, and it is likely that David Phillips bought her there. Phillips, the father of the late D. Harvey Phillips, was a great admirer of horse flesh, and an avid fan of the "sport of kings". He brought Miss Jennings back to Bradford, and almost immediately, she began to make a name for herself.
She was a favorite of David Phillips, and was often raced during the summer season. Harness racing was a popular sport in the late 1890s, and Bradford's Driving Park was the scene of many exciting races. And could she go? You bet! Soon she was challenging even the faster trotters on the circuit.
Technically, she was a pacer, not a trotter. A trotter is a diagonally gaited horse; that is, it moves its left front leg and right hind leg in unison in a smooth, high-stepping motion. A pacer, like Miss Jennings, is a laterally gaited horse, moving its right front leg and right hind leg in unison, in a swaying, side-to-side motion. Pacers are somewhat faster than trotters.
In 1896, The Bradford Era took note of the amazing filly. "It is doubtful", wrote the Era, "if in the history of harness racing there is a parallel case where an obscure horse came so suddenly into the front ranks as did this remarkable young mare".
In 1897, Miss Jennings broke the circuit's record for speed; covering a one-mile track in 2 minutes, 7-1/4 seconds. Her place in the record books seemed secure. But she pulled up lame in the summer of 1899, and although she raced after that, she never again set records. It is unknown what eventually became of her. David Phillips died of tuberculosis in 1903, at the age of 28, and his will has no mention of her.