A.M. Mayer
Bradford Businessman and Confederate Soldier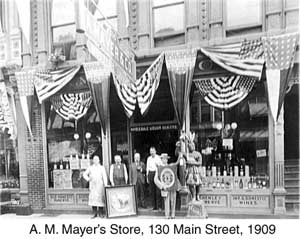 If anyone ever lived a life worth telling, and if ever someone picked the wrong place at the wrong time, it was Adolph Marcus Mayer. A store merchant in Bradford for nearly forty years, his early life in this country was unexpectedly affected when the United States entered the Civil War.
Mayer was born in Germany on June 23, 1836, and emigrated from that country in 1853 at the age of 17. He chose the warm southern climate of the United States, settling in Memphis, Tennessee where he was engaged in the dry goods business in that city. Impressed into the Confederate Army at the outbreak of the Civil War, he was present at the firing upon Fort Sumter, and spent the remainder of the war in the service of the South.
Following the war, he went north to Oil City, Pennsylvania, and later moved to Millerstown, PA. In 1878, hearing of the oil strike in Bradford, Mayer moved again, this time to Bradford. He opened a new store, A.M. Mayer & Co., which dealt in wholesale liquor, tobacco, cigars, and beer. The New York Industrial Recorder of 1903 reported that Mayer's establishment "is today one of the oldest houses in its line in the city. This firm, which is composed of Mr. A. Mayer and Mr. M. Rolland, was established twenty-five years ago. They occupy the entire floor, 25 x 80 feet, at 114 Main Street (note to modern readers-this is now 130 Main Street, and is approximately where the Tops Market now stands), and a large warehouse on the tracks of the B.R. & P. railroad. This firm handles all the most popular brands of cigars, domestic and imported, and carries a most complete line of tobaccos. They also handle a full line of wines and liquors, warranted pure and of the best quality, and well known makes. A specialty is made of Iroquois, Bohemian, and export beers. They also handle a favorite brand of whisky, known as Old Honesty."
Prosperous, Mayer erected a large Victorian home on 109 North Center Street, which still stands. He married Adelheit Rolland of New York City, and raised five daughters. He held many positions of honor in Bradford, including a term on the common council, director of the board of trade, member of the executive committee of the Bradford Hospital, and several terms as a member of the school board. He also served as president of the Reform Hebrew congregation.
He died at the age of 78 on December 13, 1914 in his home after an illness of some months. He left behind a lifetime of service to a northern city, and a long-standing reputation of fair business practices and civil responsibility. His involvements with the Confederate Army became known only after his death.