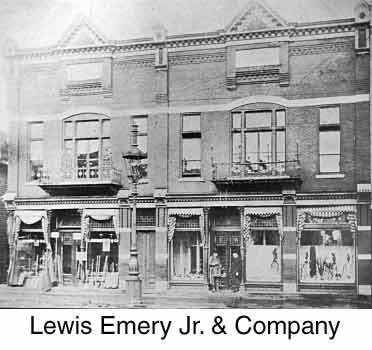 Emery Hardware Company

In 1876, the late Lewis Emery, Jr. established the store which became the Emery Hardware Company, and which was then known as "L. Emery and Company", dealers in oil well supplies. The events which led Mr. Emery to open a wholesale and retail store are rather interesting. In 1872, Mr. Emery was a member of the Oil Producers Association, a group of oil operators who banded together to resist the growing power of the Standard Oil Company. If the leaders of the association had, at that time, either collectively, or individually, entered into the operations of the Standard, they would now count their fortunes in the millions. Mr. Emery, like others, resisted the temptation of gold and continued to fight. As a representative of the small producers, he conceived the idea of establishing an oil well supply store where the producers in this section could buy their supplies at a fair price. The venture proved most successful, and from the oil supply company of those days, the business gradually evolved into the Emery Hardware Company.
When it opened, the store occupied two large double stores with floor space of 16,000 square feet, in addition to warehouses. There were four departments and featured oil well supplies, jewelry, hardware and china. The Emery store was the largest of its kind in the area.
The Emery Hardware Company occupied all its years of existence on the same site on Bradford's Main Street.
In 1967, Emery Hardware closed its doors after 91 years in business. Later, the site would house classrooms of the University of Pittsburgh at Bradford, and then become home to Raymour and Flanigan Furniture Store.
On June 1, 2001, Christopher and Michelle Angell purchased the building and opened a successful family-oriented concern known as "Angell's Entertainment Center". A fire in August 2004 caused $50,000 in damage and resulted in the closing of the Center. In August 2006, John Kohler purchased the building, saving it from the wrecking ball in the nick of time. Tenant, Mattress City Sleep Shop, opened there at the end of the year. The old warehouse space at the rear of the building, built in 1911, became home to the Emery Espresso Bar, operated by Mark and Heather Peace. When Mattress City Sleep Shop relocated, Mr. Kohler opened Bradford Furniture in its place and in November 2009, the coffee shop changed ownership and was known as Kimberly's Cool Beans, operated by Kimberly Austin. Two changes occurred in 2011 - Bradford Furniture closed its doors in the spring and the coffee shop changed hands in October and now operates as The Aud.