Cemetery Headstones
---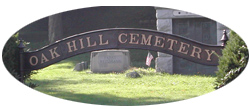 ---
Other Area Cemeteries
Thorough accountings of these Bradford cemeteries are available in printed form only at the Society:


LITTLETON CEMETERY (Old Bradford Cemetery)
ST. BERNARD CATHOLIC CEMETERY, Bradford, PA
WILLOW DALE CEMETERY, Bradford, PA
McKEAN MEMORIAL PARK, Mt. Alton, PA (Lafayette Township)

A copy of Cemeteries of McKean County Pennsylvania published by The McKean County Historical Society in 1987 is available for look-ups. Please allow additional time for look-ups in this volume as it has no general surname index. Any clues such as related surnames and/or specific cemetery(ies) are appreciated.
Please note: The cemetery known locally as the Graff-Nichols Cemetery is not its legal name. The correct name is the Tefares Israel Cemetery. It is located on Bolivar Drive and is a private cemetery.
Direct your questions on cemeteries to: queries@bradfordlandmark.org