About Us
THE BRADFORD LANDMARK SOCIETY, INC., Bradford, PA 16701

The Bradford Landmark Society is a historical organization dedicated to the preservation and dissemination of the history of the Bradford and Tuna Valley areas. We are located in the city of Bradford, Pennsylvania, McKean County.

The Landmark Society, founded in 1969, has two main branches - the Herbig Bakery which contains extensive collections of historical and genealogical material and the Crook Farm Homestead on Seaward Avenue Extension where examples of life long ago are on display. Our current membership count stands at 333.



---
LARRY A. RICHMOND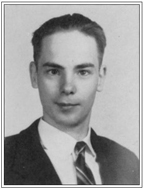 If you've been associated with the Bradford Landmark Society more than four years, you'll no doubt remember Larry Richmond. It is with great sadness we acknowledge his passing on Sunday, May 6, 2012. There is hardly a page on this website without Larry's touch. His obituary, printed in the May 8th edition of The Bradford Era, gives a glimpse into his areas of interests and expertise. Larry devoted countless hours helping people research their family roots. He memorized the Main Street addresses, had an unrivaled knowledge of the homes and mansions of Bradford, knew about obscure cornerstones, made it his mission to record information for McKean County Civil War veterans, gave "birth" to the obituary index in use today, worked with students, and encouraged them to explore the rich history of Bradford. He trudged between his house and the Herbig Bakery Headquarters here on East Corydon Street so many times in both good and inclement weather, he surely wore grooves in the pavement and sidewalks. He was here bright and early in the morning, often returning at night to finish a project or meet someone unable to visit during the normal operating hours. The foundation of Larry's work was accomplished the old-fashioned way, BTI (before the internet), but he readily recognized and embraced new technology, bringing us into the computer age. He never stopped thinking, learning, and sharing. He was a bona fide Genealogist. It will take years for any of us to come close to claiming that title. A person like Larry comes along once in a lifetime.


In loving memory of "Mr. History", Larry A. Richmond, born April 18, 1940, passed away May 6, 2012.
---
Directors - 2014
Harrijane Hannon Moore - President
Robert Esch
Gayle Bauer
Ken Jadlowiec
Susan Oliphant
Pete Gardner
Judy Yorks
Shelley Harvey
John Place
Curator at Herbig Bakery
Sally Ryan Costik

On December 12, 2014, Sally Costik marked 20 years as Curator of the Bradford Landmark Society. The Bradford Era published her story and it's available to read here:
Genealogist/Researcher
In Memory of Larry Richmond
April 18, 1940 - May 6, 2012
Researchers
Tom Jones
Dale Thurston
Molly Popiel Lindahl (Genealogy)
Volunteers at Herbig Bakery
Mary Collins Ryan
Betty Pfohl
Mike Fuoco
Gordon Ernest
Sandy Hudspith
Bill Knight
Diann Ramsay
Colette Roessler
Katherine Roessler
Cal Abbott
John Place
Brian Berlin
Max Asinger
OUR EMERITUS VOLUNTEERS
Ann DeLucia (Deceased)
Pat Schessler
---
HISTORICAL ACTIVITIES & PROGRAMS
Crook Farm & Homestead living history program for PA and NY grade school students (Spring)
Crook Farm historical site displays, tours, and demonstrations
Farmhouse, restored and furnished to 1870s
One room schoolhouse, with desks (ca. 1850-1929)
Barn, blacksmith, candle, and weaver shops
Historic farm and house tools, utensils, implements, and artifacts
Herbig Bakery historical site
Historic bakery and Bradford artifacts, records, documents, photographs, genealogy
Special topics
Rotating exhibits