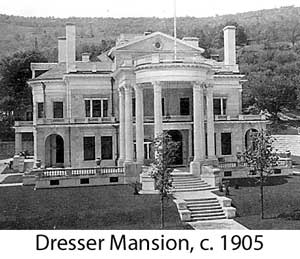 The Dresser Home
A Marvelous Mansion
1903 - 1986
Bradford is a city filled with beautiful Victorian mansions and houses designed and built in the era of large, expensive residences. Perhaps the best known of all was the Dresser Mansion, Solomon Dresser's home on Jackson Avenue.
It was built in 1903, after a period of two years construction. Solomon Dresser, the founder of Dresser Industries, dreamed of a magnificent mansion that would illustrate to the world his success, and also be a comfortable home for his wife and children.
He visited the Pan American Exposition, held in Buffalo, NY in 1901, and was immediately captivated by the design of the Michigan Building, which was attracting thousands of admirers of its architecture. Dresser decided that no less would do for his own home, back in Bradford. He contacted Louis Kamper of Detroit, Michigan, the primary architect of the Michigan Building, and persuaded him to design a home. E.N. Unruh, of Bradford, was chosen as the architect.
In 1902, Dresser purchased a plot of ground on Jackson Avenue, and prepared to erect him dream home. Construction was finished in 1903. It is estimated that it cost over $1,000,000 to construct.
Following its completion, Dresser published a small book entitled, "The Home of Solomon Dresser", and presented signed, numbered copies to all his close friends. The book is a beautiful, hardbound edition, filled with photographs and descriptions of this most marvelous mansion. The following excerpt is taken from the foreword: "It embodies all that is finest and best in a modern palatial residence. There is nothing palpably pretentious about it. On the contrary, its quiet taste and dignified magnificence impresses every visitor to Bradford. Those acquainted with its interior and all the attractions of its commodious rooms are enthusiastic over its supreme excellence as an ideal abode and a perfect home."
It was a perfect home that contained twenty-eight rooms, and a grand 27' x 48' ballroom on the upper level. Interior woodwork, along with the house's furnishings and tapestries, were brought from Paris, France. The ground floor of the structure included a rathskeller, while the first floor contained a reception hall, kitchen, butler's pantry, servant's dining room, and laundry. There were 11 bedrooms in all, and 8 bathrooms. Each of the main rooms was designed with a specific motif - the library was of English Renaissance design; the dining room was Colonial design; the den was Arabian Moorish in design; the rathskeller, German, and the reception parlor and hall were modeled after Louis XV. The bedrooms were finished in San Domingo Mahogany, Italian Walnut, or Oak. The bathrooms were finished in white Italian marble. Of course, Persian and oriental rugs, tapestries, marble mosaics, sparkling chandeliers, and heavy, carved oak stairways added to the overall impression of luxury.
Perhaps the grandest room of all was the French Ballroom, which occupied the main part of the third floor. The wainscoting of the entire room was formed of mirrors surrounded by framework and panels in old ivory finish. The ceilings and walls above the mirrors were frescoed in one delicate blue cloud, with faint suggestions of cherubs and garlands of roses, producing an almost "atmospheric" effect. French gilt chairs completed the finishing of the room.
Dresser claimed that "nothing was left undone to make this mansion one of the finest in the land." It would seem that he had achieved that goal. He called it "Belleview Terrace" and believed that, from afar, it seemed like one of the magnificent palaces of ancient Spain.
Dresser died on January 20, 1911, and his family remained in the marvelous home until 1957, when it was donated to, and became, the Dresser Memorial Presbyterian Home for the Aged. Its future seemed secure.
But the story doesn't end there. On February 28, 1986, the Dresser Mansion was destroyed by fire. No one was injured, but the magnificent home was gone. It is still remembered, with fondness, and with awe, by nearly everyone in Bradford. It was our greatest example of the wealth that oil could bring, and of one man's dream of a "marvelous mansion."