JAMMIN' AT THE FARM (AND THE DANCING)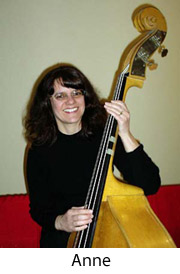 If you are a musician looking for someone to play with or if you are someone who likes to listen to live music, here's an opportunity to do both. The Jammers are local musicians who meet to learn to play folk, dance, Grand Old Opry, and other favorite music of past generations and we are delighted to share our facility with them to promote the living history of music that they enjoy working on. They are not a band for hire, it's more like a back porch gathering of friends or family playing whatever instruments they have and singing along when they know the words.

Starting in September 2005, anywhere from four to 10 musicians have come to Crook Farm on Tuesday nights at 7:30PM to play their music. They come from as far as Great Valley and Hinsdale, NY and depending on who comes there may be an accordion, fiddles, mandolin, banjo, guitars, string bass, and a Dobro. This group plays for fun and to learn music. The skill level ranges from beginner to experienced performers who play in their own bands. Anyone with an instrument that is not amplified is welcome to join in.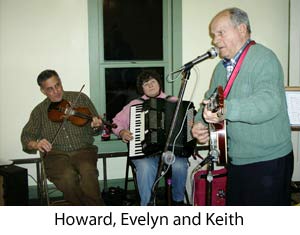 So what kind of music do the Jammers play? There's a smattering of Hank Williams and other classic folk songs, gentle waltzes and jarring polkas, occasional Gospel, and whatever anyone in the band wants to play. Most of what they do is in the keys of C, D and G so only a knowledge of simple chording is required as most of the music is played by ear though there are some tunes that they do need music for. Several musicians like to sing but that's not a requirement at all. The Jammers are here to have a good time together and practice what they do to get better at it.

Think you will stand out as a novice musician or be the only one there to listen? Not a chance! The Jammers are joined by several dozen listening friends who will dance and have a good time to whatever music comes out. This is a busy place full of good times and friendly commotion that fills the room enough that no mistakes in the music are noticed and there are plenty of Jammers there to help a new musician along.

Come on down to the Crook Farm on Tuesday nights at 7:30PM and be prepared for a good time. For more information on the Jammers, contact Howard Blumenthal.
---
We are now playing & singing Country on Thursday & Friday evenings. There are no dancers, & the musicians who show up sit in a circle & share "Country Classics".
These community Jam Sessions start at 7:30 on Tues. & Thurs. evenings & generally go till 11pm. Please bring your instrument & voice. We use a small PA system & share a few microphones mostly for vocals. We sit in a small circle, so it's not necessary to have your own amplifier. We prefer mostly acoustic instruments, but the guitar & steel are generally plugged in to the PA.
Our repertoire is Country, Bluegrass & Folk mostly from the 30's, 40's, 50's & 60's but sometimes play early "show tunes". We have "published" our songs (lead sheets w/chords) on the Internet for easy access.
As with any "regular" event, it's best to call first just to be sure it's happening.

Contact either:
Howard Blumenthal 814-368-4057 or Larry Combs 716-925-8416
Check our this new MusicFriends Area Event Calendar!